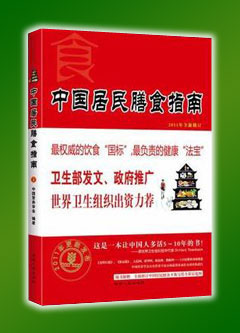 In order to provide the residents with the most basic, scientific information on healthy diets, health experts commissioned by the Chinese Nutrition Society, formulated "China's Dietary Guidelines" (2007). "Dietary Guidelines" to the advanced scientific evidence, close contact with our actual dietary nutrition for people of all ages intake of proper nutrition, avoiding diseases caused by the unreasonable diet of universal significance. The next 10 to 20 years, the Chinese national nutrition and health the key to improving the strategic period. Hope that the broad participation of society as a whole, and to promote the use of "Chinese Dietary Guidelines", Nutrition and Health Sciences to improve the quality of building a moderately prosperous society for the quality of the population to lay a solid foundation.
Contents Introduction :
■ Part I:General population dietary guidelines

  Dietary guidelines for the general population over the age of 6, a total of 10 entries.

■ Part II:Dietary Guidelines for specific populations
  Specific populations, including pregnant women, nursing mothers, infants, preschoolers, teenagers and the elderly, according to the physiological characteristics of these groups and special nutritional needs to develop the appropriate dietary guidelines, in order to better guide the pregnant and lactating women, food, infant feeding and complementary food and reasonable scientific to add, pre-school children and adolescents in rapid growth of the body during the diet, and physical and nutritional needs of older people to adapt to changes in meal arrangements, to improve health and quality of life purposes.


》Dietary Guidelines for Preconception period women
》Dietary Guidelines for Early pregnancy women
》Pregnant women in the late second trimester and Dietary Guidelines
》Chinese Dietary Guidelines for lactating women
》0 months to 6 months old infant feeding guidelines
》Chinese Dietary Guidelines for Children and Adolescents
》Chinese elderly dietary guidelines
■ Part III:Balanced diet pagoda

  Chinese residents in the application of a balanced diet pagoda
Related Pages :
■ Dietary Guidelines for Chinese Residents (2007)
■ Nutrient
■ Dietary Reference Intakes (DRIs)
■ Standard weight - weight self-test